Year 12 Chromebook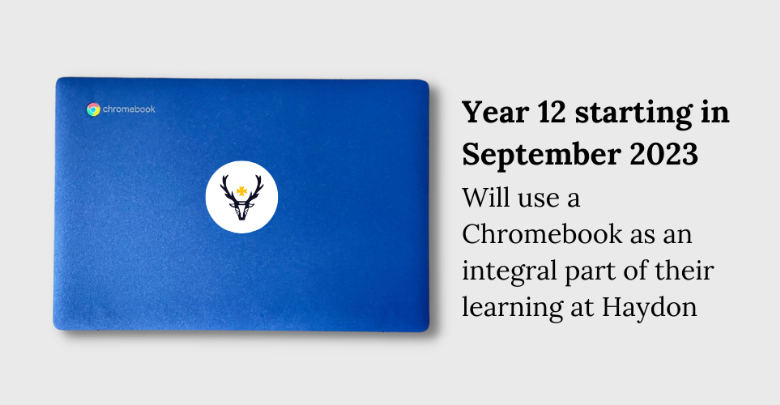 The portal will close at Midnight on Sunday 10th September. You must sign up for your chromebook by this date. The first direct debit payment will be made on September 25th. The Chromebook will be delivered to school by the end of September.
All students, going into year 12, will need a suitable device, which they will use in school every day
Ordering Portal Details:
www.tech4learners.co.uk - follow this link for the portal

Email: This needs to be the email address of the parent ordering and is where the Order confirmation will be sent.

Username: Haydon2023

Password: S3cure02!

Click on the image of the Chromebook, and then please select 'year 12' and your payment option, when making your purchase
Parental payment options:
Lenovo 300e Chromebook 3rd Gen with Stylus
1 Full upfront payment - £419.91
10 Monthly payments - £44.24 (£442.40 total paid)
22 Monthly payments - £21.23 (£467.06 total paid)
NB The device will belong to you after the final payment has been made.
Why do we use Chromebooks at Haydon?
Our experiences over the last year has shown us that students are highly motivated by the use of Chromebooks to learn and develop new skills and knowledge. They enable students to take part in active learning and develop independence. The vast majority of our Sixth Form students still write on paper, but are able to use their Chromebooks for web-based tools, research, cooperative learning, quizzes, interactive tests, accessing resources through Google Classroom, accessing online dictionaries etc.
Why Chromebooks and not iPads, Microsoft Surface or some other device?
As a Google school we have an education licence and both students and staff are confident with the Google tools and environment. Chromebooks are not multimedia entertainment centres, but excellent web-enabled tools ideally suited for an education environment. They are much cheaper than other devices, have good batteries and are very light and portable. We do not want to create a two-tier system where some students feel they are using an inferior or less fashionable device
Have you negotiated a good deal for parents?
We strongly believe we have. Haydon School makes no money from this scheme. Working with our partner Freedom Tech, we have sourced an affordable, sturdy, portable, 11.6 inch Chromebook with touch screen and stylus pen - Lenovo 300E.
The Chromebook is supplied with:
- A ruggedised body resistant to bumps and scrapes (ideally suited to schools)
- A Sleeve Case (around £10)
- A Google Chrome Management Licence (around £35)
Also included, regardless of term selected, is:
- Sixth Form extended warranty
- Sixth Form Advanced Repair Service
As a school, Freedom Tech provides us with spare Chromebooks, to supply to students whose Chromebook stops functioning or screens are broken, so they do not lose any learning time. Repairs are carried out free of charge. Theft or loss is not covered by the warranty.
The fact that we can offer our parents this comprehensive package from £21.23 per month (2 year term) is something we are very proud of. The shorter the payment term you choose, the lower your total payment. This is due to the admin costs for direct debits. There are no credit checks for signing up for a Chromebook. You will own the Chromebook at the end of the payment term you have selected.
Will my child need to have a Chromebook at Haydon?
Yes. All students will be expected to have a Chromebook in Sixth Form. This will be required for many tasks across all subjects and makes non-contact time much more productive.
What if I already have a suitable Chromebook for my child?
Please notify us as soon as possible. You will need to pay for the Google Licence (around £35) and the school will have to set up the Chromebook to work in the school and use our web filtering. These devices will obviously not be covered by our repair and warranty deal. The school can offer no technical support for any home purchased Chromebook. Experience has shown us that devices larger than 11.6 inches will be difficult to carry around the school.
What if I can't afford to lease a Chromebook?
The school has limited funds to support families on free school meals or under the category of pupil premium. Please contact us as soon as possible ict@haydonschool.org.uk, if you need support from the school in leasing a Chromebook
Who do I contact regarding the Chromebook programme?
Can I purchase a Chromebook if my child is in a different year group in the school?
Yes. We have opened a window for Students in years 7,8 10 and 12 who will all be using Chromebooks in September 2023. All Haydon students will use Chromebooks by September 2024.