Chromebook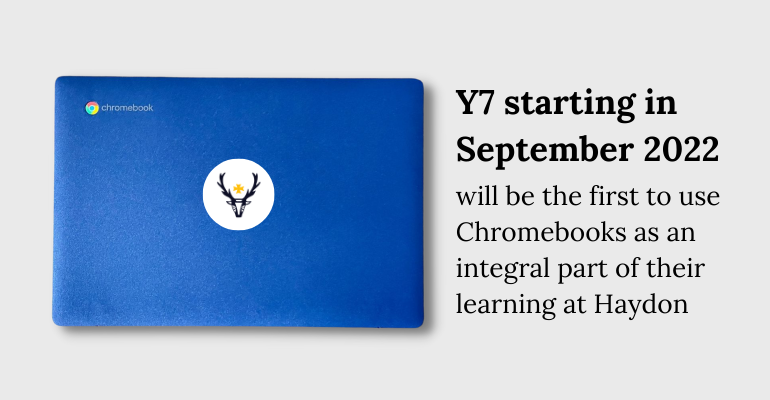 Dear year 7 parents
We are very excited to welcome you and your son or daughter to Haydon School. We are also very excited that your son or daughter's year will be the first to use chromebooks as an integral part of their learning at Haydon.
I am delighted to advise you that the chromebook portal is now open for you to lease a chromebook for your son or daughter which will be ready for them when they come to the school in September.
Please note that the portal will close on October 10th. You must sign up for your chromebook by this date.

Ordering Portal Details: www.tech4learners.co.uk
Email: Please use your main email address
Username: Haydonschool2022
Password: S3cure02!
Why are we introducing chromebooks at Haydon?
Students are motivated by the use of digital resources and web enabled devices to learn and develop new skills and knowledge. They respond to active learning and independence. During lockdown teachers and students became more confident in utilising these technologies to make learning more active and students more independent e.g. YouTube videos, interactive quizzes, animations, collaboration through Google Docs etc. We therefore want students to utilise their new chromebooks both at school and at home.
Why chromebooks and not iPads, Microsoft Surface or some other device?
As a Google school we have an education licence and both students and staff are confident with the Google tools and environment. Chromebooks are not multimedia entertainment centres, but excellent web-enabled tools ideally suited for an education environment. They are much cheaper than other devices, have good batteries and are very light and portable.
Have you negotiated a good deal for parents?
We strongly believe we have. Haydon school makes no money from this scheme. Working with our partner Freedom Tech, we have sourced an affordable, sturdy, portable, 11.6 inch chromebook with touch screen - Lenovo 300E.
The Chromebook is supplied with:
- A ruggedised body resistant to bumps and scrapes (ideally suited to schools)
- A Carry Case (around £10)
- A Google Chrome Management Licence (around £35)
Also included, regardless of term selected, is:
- 36 month extended warranty
- 36 month Advanced Repair Service
As a school, Freedom Tech will provide us with spare chromebooks, to supply to students whose chromebook stops functioning, so they do not lose any learning time.
The fact that we can offer our parents this comprehensive package at £11.75 per month (3 year term) is something we are very proud of. There are no credit checks for signing up for a chromebook. You will own the chromebook at the end of the payment term you have selected.
Will my child need to have a chromebook in September?
Yes. All year 7 students will be expected to have a chromebook. This will be required for certain tasks across a range of subjects.
What if I already have a suitable chromebook for my child?
Please notify us as soon as possible. You will need to pay for the Google Licence (around £35) and the school will have to set up the chromebook to work in the school and use our web filtering. These devices will obviously not be covered by our repair and warranty deal. The school can offer no technical support for any home purchased chromebook.
What if I can't afford to lease a chromebook?
The school has limited funds to support families on free school meals or under the category of pupil premium. Please contact us as soon as possible, if you need support from the school in leasing a chromebook.
who do I contact regarding the chromebook programme?
You can address your message to Mr. McTiernan at ict@haydonschool.org.uk
Can I lease a chromebook if my child is in a different year group in the school?
Sorry, not at the moment. We have a limited number of chromebooks protected for Haydon students starting in year 7 this September. The school will expand the number of year groups eligible for the scheme in September 2023. This approach allows us to move to effectively implementing the use of chromebooks at Haydon in a gradual and well managed way.
Chromebook specs