PTA - Parents' Association
The school has a thriving Parents' Association run by an enthusiastic committee. Events are organised throughout the year, including a barbecue in September for parents of new students in Year 7.
The Parents' Association has been active in supporting the school by providing refreshments at events such as the Open Evening and the school production.
A major function of the Parents' Association has been to raise funds for the school. The Parents' Association was delighted to be able to donate £3,000 for new drinking fountains and £2,000 for picnic benches to enable the students to make the most of the all too rare sunny days. They have funded the running of a monthly food club, provided costumes and lighting for the drama club and a sound system for the hall.
The Parents' Association is always looking for new members to join its committee, or just to offer a hand with functions.
How can you help?
You can join the team:-
as a committee member (the committee meets every couple of months to organise events such as quiz nights, the Christmas Raffle and refreshments at school productions)
as a flexible helper (eg, to help set up and sell refreshments at events)
Interested?
Contact Sarah West via parentsassociation@haydonschool.com
NEXT MEETING: 11/01/22
Our next PTA meeting will be an event planning meeting on Tuesday 11th January 2022 at
The Woodman pub on Joel street Pinner HA5 2PR from 6.30pm.
We are now on Amazon Smile!
We created an Amazon Smile account linked to the Haydon PTA Charity. Amazon Smile allows any shopper to choose a registered charity (Haydon School Parents Association) when making purchases. Amazon donates 0.5% of the price of eligible purchases directly to the PTA bank account. The shopper experiences the same products, same prices and the same service. There is no additional cost to the shopper. As a result, the PTA will receive funds quarterly to support ongoing fundraising to further benefit the children of Haydon. Thank you in advance for your support.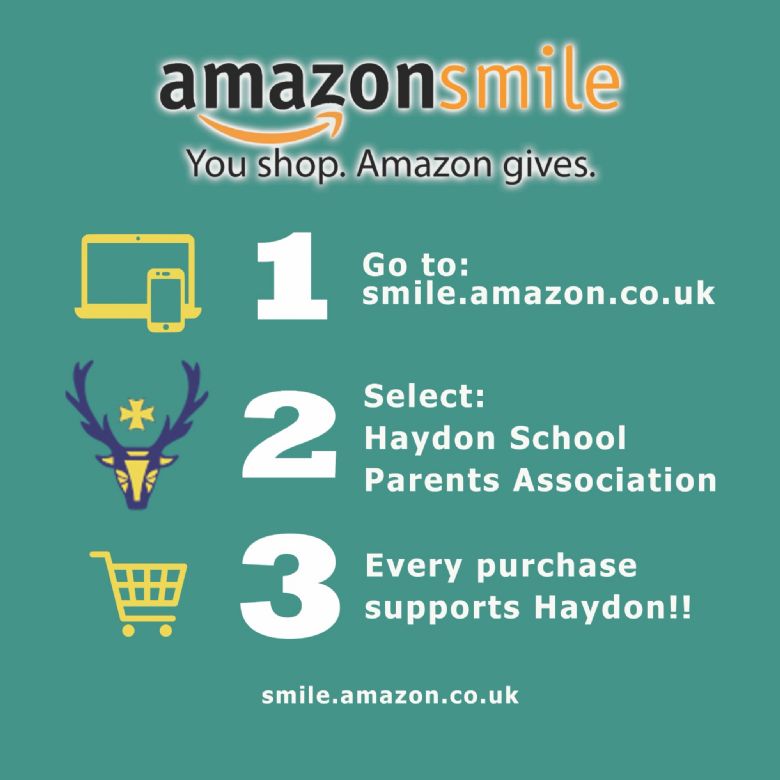 ---
We welcome any parents who want to find out more about what we do, or who would like to join the PTA.

Do you know how the PTA has supported the school and pupils?
Here are just a few of the things the PTA have provided:

· CAD Embroidery machine
· Camping equipment for Duke of Edinburgh students
· Camera's for media and photography students
· Picnic tables and benches
· Various sporting equipment, including new goals and badminton/netball goals
· Table tennis tables
· Books and Kindles and contributed towards various workshops

For more information, please reach out directly to:

Sarah West; thewests2015@hotmail.com or
Clair Herbert; clairvh77@gmail.com