Student Voice
STUDENTS HAVE UNIQUE PERSPECTIVES ON LEARNING, TEACHING, AND SCHOOLING. AT HAYDON SCHOOL STUDENTS ARE GIVEN THE OPPORTUNITY TO ACTIVELY SHAPE THEIR EDUCATION.
WHAT IS STUDENT VOICE?
Student Voice is a student body council that engages pupils to bring about change and leadership inside and outside the school.
Student Voice helps share students' ideas, interests, and concerns with pupils, Teachers and the Senior Leadership Team (SLT).
Student Voice helps raise funds for school-wide activities, including social events, community projects, helping people in need and school reform.
Many members learn skills that are an extension of their formal education here at Haydon. Student Voice involves pupils from years 7 to 13.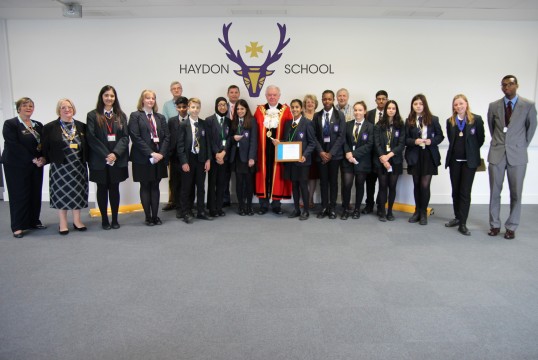 WHAT DOES STUDENT VOICE CONSIST OF?
Student Voice consists of:
Form Representatives of each form group at Haydon School (Form Reps)
The Junior Leadership Team (JLT) - the senior part of Student Voice that works throughout the entire year
The Interact Club – A student Rotary Club sponsored by The Rotary Club of Pinner
Mr. Clarke (the Student Voice Coordinator at Haydon School)
The Form Representatives and the Junior Leadership Team meet termly in team meetings. Each team has a particular focus. The 3 teams are:
Consistency team – monitors rewards, achievement, and examines teaching and learning in the school
Community team - helps charities and the local community
Canteen and Facilities team - monitors the quality of food in the canteen and how the school is running physically
WHAT HAS STUDENT VOICE DONE IN THE PAST?
Established reward breakfasts
Celebrating student talent around school
Successfully got table tennis tables and basketball nets installed on the school premises
Monitors food options in the canteen
Interviewed the Head Teacher for his job
Brought forth changes to the behaviour and uniform policy
Charity work inside & outside the school
Organised non-uniform days
Given effective feedback to the Senior Leadership Team on school policy
Along with many other things
WHAT CAN PUPILS DO?
Join the Junior Leadership Team (JLT)
Be your form's Student Voice representative
Attend termly meetings
Talk to the JLT about new projects or initiatives, how to get involved in the local community and improvements you would like to see around the school
THE HAYDON SCHOOL INTERACT CLUB
The Haydon School Interact Club is sponsored by The Rotary Club of Pinner, which provide support and guidance, but it is self-governing and self-supporting.
The club was opened in early 2017 by the Mayor of Hillingdon and high ranking members of the Rotary Club of Pinner.

Each year, the Interact club completes at least two community service projects, one of which furthers international understanding and goodwill.
Last year, the club raised over £500 for local and international charities. The local charity supported was Red Nose Day that helped victims of domestic violence. The international charity supported was the Burundi Education Fund, where money raised helped build a new 1 room school in Burundi. Haydon School now has a partnership with the only Interact Club in Burundi.

Through these efforts, Interactors develop a network of friendships with local and overseas clubs and learn the importance of:
Developing leadership skills and personal integrity
Demonstrating helpfulness and respect for others
Understanding the value of individual responsibility and hard work
Advancing international understanding and goodwill