Dance Fundraiser for a World Challenge trip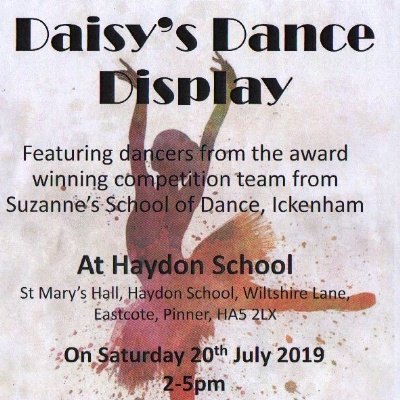 A Year 11 Student will be holding a Dance Display to help fund her 'World Challenge' trip to Uganda.
Daisy Thomas-Baruya, one of our Year 11 students is raising money for her trip to Uganda next summer. Daisy will be part of a team of students from Haydon heading to Uganda next summer for their 'World Challenge' trip. On that trip, they will be supporting a local community working on building and teaching projects, as well as facing a difficult 5-day hike. They also have to raise the £3600 it will take to get them there - and Daisy has been busy organising this event to support her trip.
Daisy is a part of a dance school, who have kindly offered to put on a show to help her raise some money. There will be a mixture of ballet, tap, and contemporary dance, and it will include national competition winners, so it does promise to be a great show.

Any support for Daisy would be greatly appreciated as she has been working very hard to put this show together as well as revise for her GCSE exams.
Saturday 20 July - 2:00pm-5:00pm
Tickets: £7.50 adults / £5 Children
Please email etwiddy.312@lgflmail.org or rharding3.312@lgflmail.org if you would like to reserve a ticket - these can be picked up/paid for on the door on the day or see attachment for more information.
An amazing dance show for an amazing cause.
Buy your tickets now!