Haydon@Home Challenges Week 5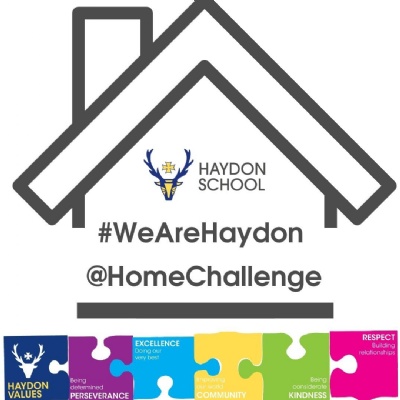 Please see a list of this weeks challenges set by our Year Teams:
Given we now have an extended period of time ahead for remote learning, we have re-introduced the Haydon@Home weekly challenges. It is a chance to help promote the school culture and also give students some fun tasks to complete aside from all their live lessons.
This time we have changed it slightly with each Year Team setting their own challenges for their specific year groups.
Please see a list of this weeks challenges set by our Year Teams:
(Week 5 - 08/02/21)

P.S - Students can also enter other year team challenges (if they wish) & Staff are also welcome to participate!

Entries will also be added below
YR 7 - recreate a famous sporting moment
Yr 8 - Twitterature Challenge
NEW Haydon@Home Challenge – Ms Lound's Twitterature Challenge

Create a 140 character story - Deadline: Thursday 11th February at 3pm – Upload your entry to Satchel

Try your hand at 'Twitterature' in one of the following ways…

Option A: Choose a well known fictional book/film and summarise the story in 140 characters (the original size of a Tweet)

Or Option B: Invent a 140 character story of your own.

Have a look at the examples below for some inspiration

A boy with a scar the shape of a lightening bolt and an evil conquering spirit split into seven fight for the control of magical Britain #HarryPotter.

Heading to Paris! A man is dead and the police think only one man's superhuman knowledge of cryptology can solve It #DaVinciCode

YR 9 - Fight the Cold with Cold Challenge
Mr McCloghry's Fight the Cold with Cold Challenge
Mr McCloghry has come up with an absolutely brilliant challenge this week! Make Ice Cream at Home Using only 2 ziplock bags, cream, sugar and vanilla extract (and salt and ice) you can make ice cream at home. There is a recipe attached, however feel free to add any flavourings you so desire -chocolate chips, cookie dough, pieces of fruit, pickles... maybe not pickles.

This challenge will be placed on Satchel:One alongside the newsletter please submit your entries through Satchel:One by Wednesday 10th February for a chance of winning.

Yr 10 - Origami challenge
Yr 11 - make a model of a historical site