Haydon@Home Challenge - Week 4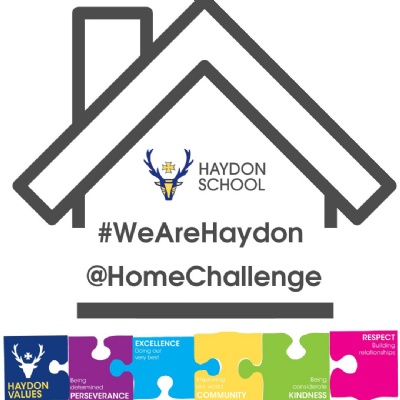 Find out about Mr Knowles Week 4 Cooking Challenge and our Week 3 Finalists
Mr Knowles' Week 4: Cooking Challenge
Many of you may have been perfecting your culinary skills at this time. Your challenge for this week is to cook something - anything! It can be a whole meal, some baking, your own invention… Send in a picture or pictures of your efforts. I tried my hand at baking... have a look here...
https://drive.google.com/file/d/12Q3-84OCIcKUaIsR03s71BKBt77GNsGu/view?usp=sharing
There are some simple recipes attached.

Miss Egan's Week 3: Finalists
The number of entrants to this week's #WeAreHaydon@Home Challenge has been overwhelming, I am sorry to have had to reduce the list to just 11 finalists. I will look to make all of the entries available to watch on the school's website or social media pages and will announce Mr Jones's choice of staff and student winner later on. In the meantime please click on the links and enjoy our wonderful array of finalists' entries!

Student Finalists
7AXD: Riaan's toilet roll goal
7WJM 9SCM: Stanley's and Rory's sibling rivalry
7EKM: Ella's Skittle alley
7JAL: Rosie showing my brothers how it's done
7PEP: Royd for my Dad's amusement
7JAL: Jozsef's boxing bear
8MEM: Darrel's sideways shuffle
8SAP: Matilda's pirouetting plop
8MEM: Louisa's hole in ……5?
10NLC: Ewan full kit hits the spot
12MSP: Connor hits the target
Staff and family Finalists
Miss Glynn hits the (toilet) target
Mrs Richards shows as a Gymnast how important balance is and Austin's revenge
Mrs Whitehead's speedy space hopper and Henry's revenge
Mr Gooch misses the net, Mrs Gooch misses the ball, Ted shows who has the family sporting talent
Ms Pennell's dramatic debut
Mr Mccreeth I am not going to miss (no matter how close I am or how young my Goalkeeper is)
Please remember to submit entries to your child's Head of Year or Form Tutor. Thank you to all the children (and adults) for their hard-work in submitting such wonderful entries and continuing to show the best of our Haydon school community.
Dan Gooch | Assistant Headteacher | Haydon School