GCSE Results Day 2019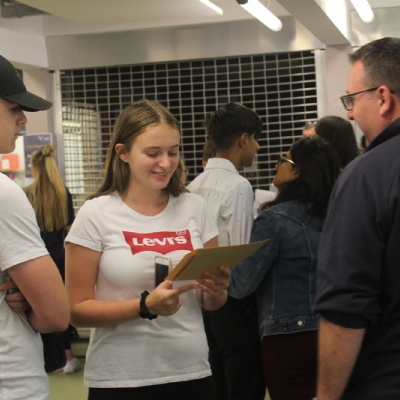 Well done to all our Year 11 students who received their GCSE results today.
Students, family members and staff shared in celebrating some excellent results and personal achievements, this included a large number of students achieving level 8s and 9s. Overall 249 grades 8-9s were achieved across the cohort in a wide range of subjects.
This year's cohort has shown fantastic dedication to their studies and personal development. We would like to thank parents and carers for their support over the last five years which has enabled our students to flourish and subsequently, celebrate these wonderful results .70% of students achieved over 5 level 5-9 passes whilst 78% of students achieved a good pass in English and very strong Science results, particularly in Physics and Biology; over 91% of students achieved a good pass or above.
We are also very proud of our large and diverse curriculum at Haydon and it is great to see so many of our applied subjects achieving very high results, particularly in BTEC Children's Play and Development; 85% of students achieved a strong pass or above. Our technology subjects also did very well, in Art our students on average achieved at least a grade higher than their projections which is a fantastic achievement.
Robert Jones, Headteacher, said "We are immensely proud of our students, and school. Together we have achieved some amazing personal successes and we look forward to welcoming our students back into the Sixth Form in September to continue their journey with us. Our achievements are a real team effort and should be enjoyed by all of our school community."
As a school, we feel that these results reflect our core ethos of 'achieving individual excellence in a caring community'