Events
Royal Holloway University Trip
A small group of Year 10 students visited Royal Holloway University for an 'Experience Languages & Cultures day'. This one day event on their campus in Egham gave students a miniature experience of studying at university whilst also supporting what they are studying in their GCSE, with the hope of inspiring them to go on to study languages at A Level.
Students had a taster workshop in a language that they do not study, a culture workshop in a language that they currently study and a student ambassador led campus tour.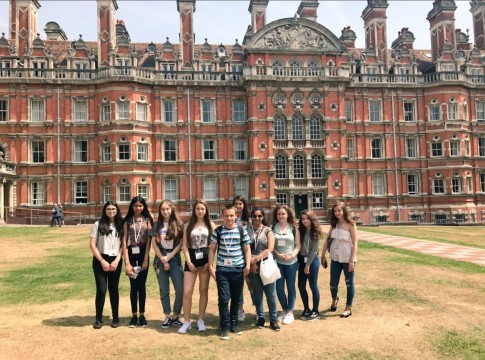 Students also learned more about the opportunities that speaking another language can offer. They met the University's language tutors, academics and current students who helped them gain a real insight into studying languages.
CHINESE NEW YEAR
The exact date is calculated according to lunar and solar calendars, so it changes every year. At Haydon School we hold our annual celebration were students get invited to take part in different activities organised by our Mandarin A-Level students and our Chinese assistant from the British Council. They learn about the Chines traditions for this celebration, enjoy traditional sweets, learn calligraphy and decorate red lanterns.
You can also find out which animal you are.
| | | | |
| --- | --- | --- | --- |
| Rat | 19 February 1996 | 7 February 2008 | 25 January 2020 |
| Ox | 7 February 1997 | 26 January 2009 | 12 February 2021 |
| Tiger | 28 January 1998 | 14 February 2010 | 1 February 2022 |
| Rabbit | 16 February 1999 | 3 February 2011 | 22 January 2023 |
| Dragon | 5 February 2000 | 23 January 2012 | 10 February 2024 |
| Snake | 24 January 2001 | 10 February 2013 | 29 January 2025 |
| horse | 12 February 2002 | 31 January 2014 | 17 February 2026 |
| Goat | 1 February 2003 | 19 February 2015 | 6 February 2027 |
| Monkey | 22 January 2004 | 8 February 2016 | 26 January 2028 |
| Rooster | 9 February 2005 | 28 January 2017 | 13 February 2029 |
| Dog | 29 January 2006 | 16 February 2018 | 3 February 2030 |
| Pig | 18 February 2007 | 5 February 2019 | 23 February 2031 |

Arts Alliance
The Arts alliance project has been running for years at Haydon School and it is a cross curricular project that lasts for half a term and involves different faculties in school working with all our year 7 groups. Pupils in each form are given a country or continent to research and prepare a performance about. In PE lessons they learn a traditional dance from that country which they rehearse in lessons and perform in the final show. In music they learn to perform a piece from that country, in ICT they use the internet to research cultural and historic aspects on the country and prepare display work based on their research. In Geography lessons they learn about the conditions in the country, in English they look at a tale or story to tell from that country (which will form the main part of their performance). In art they create backdrops based on artistic images from that country and in MFL they study about the society or language from that country. All of this work is collated into a final 15 minute performance by each year 7 form and display for the whole of Year 7. The main aim of the Arts Alliance project is to promote diversity at Haydon School and break down cultural stereotypes that our youngest students might have towards other countries or cultures. The fact that our students can show respect to others and understand different beliefs and cultures helps them to understand what it means to live in this diverse society and become responsible citizens. These values resonate with the Haydon school values of cooperation and community, so we feel it is important for us as a school to promote this cultural diversity (not only in Modern Foreign Languages lessons but across the curriculum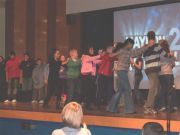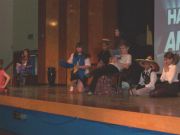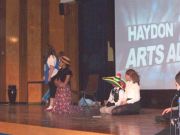 Japan Day
On Friday 20th March Haydon School celebrated the link that they have forged with Seki High School in Japan by organising lots of cultural activities for our year 7, 8 and 9 students to get involved with.
There were demonstrations from martial arts groups which included Karate, Judo and the art of Japanese sword fighting known as Kendo.
There was sushi making, karaoke, a chance for students to try on authentic, beautifully intricate kimonos and perhaps the most popular of all the inflatable sumo wrestling.
Mr Jones said:
"The Japanese Day on Friday 20th March provided the students with a real flavour of Japan. We currently have 57 students at Haydon School studying Japanese and the activities on offer have allowed many more of our students the opportunity to understand Japanese life".
Our students said:
"I enjoyed the Judo most of all because it was great to see an ex-student helping to teach us the moves, I think everyone really enjoyed it".
"The sushi making was so good, I've never even eaten it before so to be able to make it and then taste it was great".
"The sumo wrestling was so funny, I've always wanted to do it when I've seen it on TV before"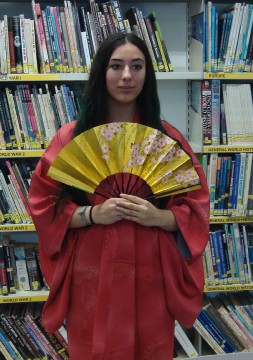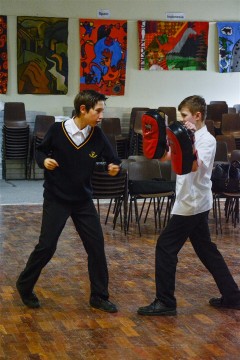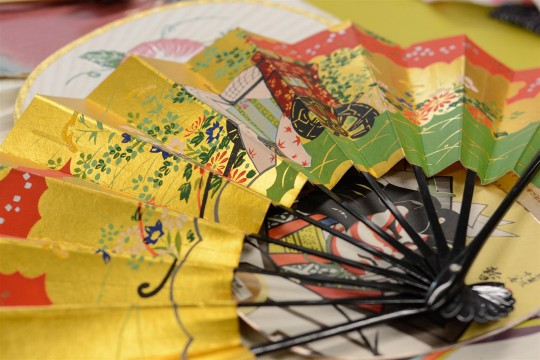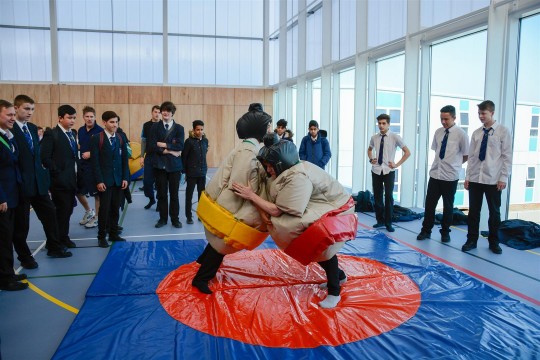 Language Ambassadors
At the end of February 2015 the Languages department invited our 80 of our top achieving students to an event we call Language Ambassadors or #langambs!
It's a good chance to celebrate all the wonderful things that learning a language can help you achieve in the big wide world and so it's also a great opportunity for us to say please take 2 languages at GCSE! The students watched a presentation and then took part in group work to discuss all the doors learning a language can open. We also encouraged students to use their phones during the event! This was to tweet their reasons for learning a language and the winning tweet follows:
"You should learn a language so you can get accepted into a good uni, get a banging job and become rich!" #langambs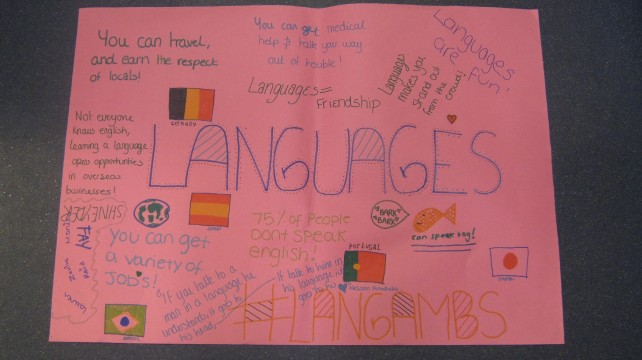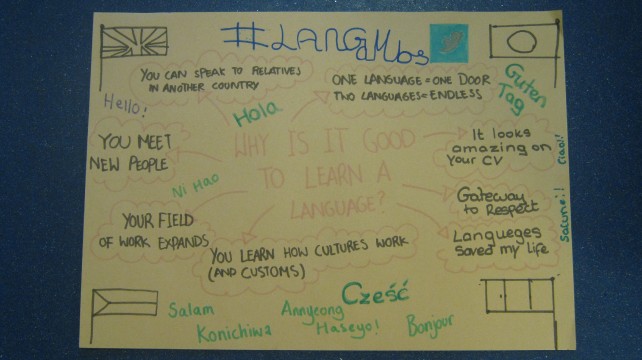 Chinese New Year Roadshow
On the 27th February Haydon's Mandarin students were lucky enough to watch a fantastic performance to celebrate Chinese New Year – year of the goat! Performers from the Confucius Institute at London's Southbank put on an amazing show in St Mary's Hall to all our of Mandarin students from years 7-11. They performed traditional folk dancing, beautiful fan dancing, amazing martial arts which drew gasps from the audience and best of all some of our students had the opportunity to get up on stage and have a go themselves. It was a colourful and exciting show and all the students thoroughly enjoyed it.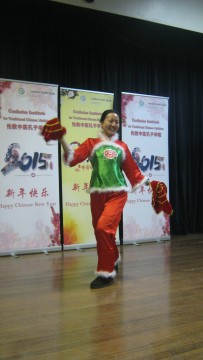 Diversity Day 2014
On Friday 29 March 2014 Haydon School held its annual Diversity Day. This hugely successful event showcased many of the diverse skills and talents of pupils and staff at Haydon School and pupils were able to take part in a range of international activities related to the theme of diversity such as Samba & Taiko drumming, Flamenco, Henna tattoos, Chinese calligraphy and Zumba. Click here for an image gallery of the event.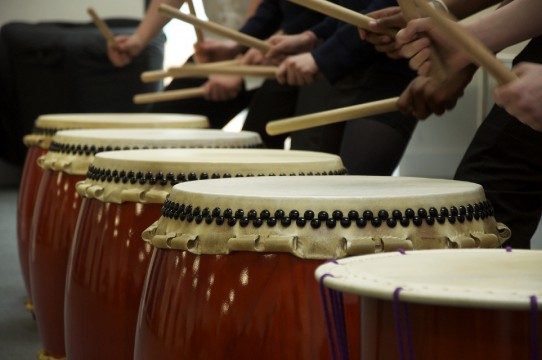 European Day of Languages
On Monday 30 September 2013 Haydon School celebrated the linguistic diversity of the school community in the annual European Day of Languages celebration. Many enthusiastic students came to the library at lunchtime to learn a few words and phrases in such varied languages as Swahili, Japanese, Panjabi and Greek. Students collected signatures in their special passports and received prizes. This exciting event gave students the opportunity to experience different cultures and gain valuable linguistic knowledge. Many students were inspired by their success and continued to talk with a range of teachers in other languages throughout the week. Photos from Ms Morris (Languages)