Year 7 Virtual Transition
We would like to reassure Year 6 parents and carers that we are committed to supporting our new students and their families with a positive transition to Haydon School.

Have a look at some of our resources and information below:

YEAR 7 STUDENT TRANSITION BOOKLET
video Message from the year 7 team
headteacher's welcome video
Meet some teachers
MEET OUR SUPPORT STAFF

LINK - Inclusion Unit


LEARNING SUPPORT DEPARTMENT

ADVICE GIVEN BY OUR CURRENT STUDENTS

KS3 Journey Map

DEPARTMENTAL VIDEOS

Some of our departments have created short overviews for our KS3/4 students and parents /carers so that you can get a sense of what each subject will involve and how students will be able to progress and develop in them.
We Are Haydon @ Home CHALLENGES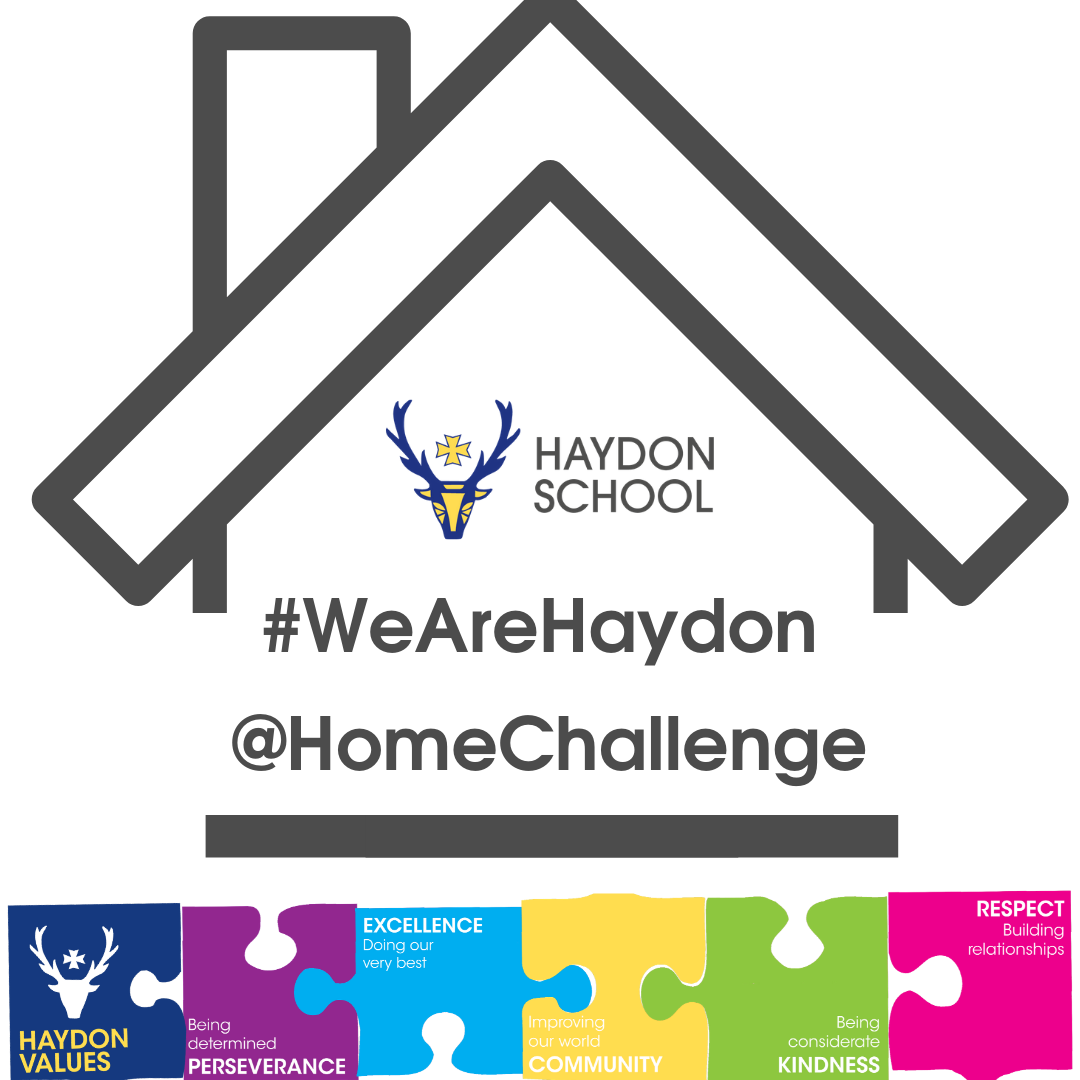 In the current climate we as a school feel more than ever that Haydon's values could not be more relevant. The purpose of this challenge is not to add to the sense of work to complete. This is an opportunity for your child to reflect on the positive things they have done so far, and can do to help support you as parents and carers and also maintain a sense of community around them at this unprecedented time.
Attached below is a list of 32 suggested tasks as a starting point. Students are welcome to add their own tasks to this list and to be as creative as possible in completing tasks that they think help embody one of our school values. The tasks should then be entered into the booklet as a way of logging completion, using photos descriptions and or video clips if appropriate. (Click here to download the booklet)
Have a look at some of the We Are Haydon @ Home Challenges that our current students/ staff have got involved in so far :
Poetry Slam Finalists
Rube Goldberg Machine Challenge
Ikea Inspired Challenge
Haydon @ Home Cooking Challenge
FAQs
How long is the school day?
The school day starts at 8:40am and finishes at 2:50pm -
Click here to see a full breakdown of the full day.

Can I ride a bike to school?
You can ride your bike to school. There are bike stands to put them in but the school will not accept responsibility for your bike.
What if I get lost?
You will be given a map of the school and you will be with your whole class for most of your lessons – however you will find very quickly that you start to remember your way around. Also feel free to ask and students or staff for directions.
How long is lunchtime?
Lunch is 30 minutes -this may not seem like a long time but you will get used to the systems at school. We have a rolling lunch system - Year 7s have their lunch from 12:50pm - 1:20pm. Alongside our canteen service point we now also have an outdoor pop up in our undercroft which also serves food.
What kind of food is there?
If you asked many students they will say that the food is great. Taylor Shaw serves a wide variety of food catering for everyone, including pizzas, paninis and pasta bowls, a salad bar, baguettes, sandwiches, a daily main meal and many desserts such as muffins and biscuits. Click here to view the menu and prices.
Click here to view images of some of the food.
How do I pay for my lunch?
All payments are made through your Parent Pay account and you use either your fingerprint or a code at the till to pay.

Uniform - What is allowed and what is not?
Click here to view more information on our Uniform
What if I get bullied at school?
If a member of our community behaves in an inappropriate way to you it is really important that you tell somebody, whether that is a friend, parents/carers, your tutor, your Assistant Head of Year or your Head of Year. You must tell somebody to enable them to deal with it for you.

What will my timetable look like?
Click Here to view a draft Year 7 Timetable -
Along the left vertically it has the different periods , top horizontally has the days and weeks.
Each box includes the subject, room number and teacher initials.

Homework?
Click here to find all information on Homework given at Haydon
What extra-curricular activities are available?
The school has many extra-curricular clubs at lunchtime and after-school such as Dance, Robotics club, Ted talks club, Movie club and much more - Click here to see a full list or watch our video here

Interested in sports and PE?
Click here to find out about all of our sports teams and P.E. efforts
What kind of trips do students go on?
Our students go on many trips there are even international trips to countries such as China, Japan, Zambia, Spain, France, Germany and USA. Click here to find out more

What languages can students learn?
The languages that are on offer to students in Year 7 are French, Italian, Spanish and in Year 8 there is an option to study German. Click here to view our full curriculum guide
Travel Options?
Nearest Train Station : Northwood Hills
Cycle to School : Bike Shed available to use to store bike at school
Bus : 282 - Wiltshire Lane

We have also set up a Facebook Group to help parents exchange information about travel arrangements with families of other Haydon students to possibly arrange car shares etc.
https://www.facebook.com/groups/382576415699789/
---
If you have any other questions about your transition into Haydon School- please feel free to email your Year 7- Year Leader : Mrs Hitchman : mhitchman.312@lgflmail.org or
Mr Baglan : jbaglan2.312@lgflmail.org

In order to get a taste of Haydon School follow us on our social platforms which will help keep you up to date with all the latest news and events.