Week 4 / Week 5 Challenge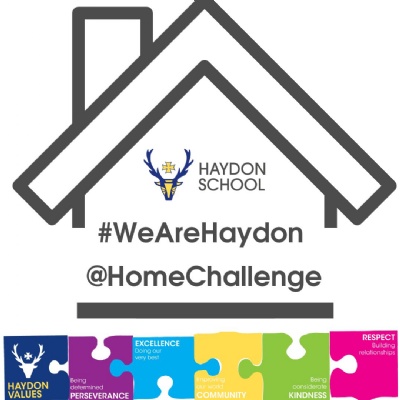 Find out who our Week4 Haydon Cooking Challenge Winner were and all about our Week 5 Lip Sync Battle :
We Are Haydon @ Home Challenge
Mr Knowles' Week 4: Finalists & Winners!
This week's challenge has proved the most popular yet! We received over 200 entries from staff and students who have been making the most of spending time at home with relatives and many embracing the chance to prepare cakes for VE Day on Saturday. Each Year Leader has had the unenviable task of selecting just 10 finalists all of which have been displayed on the school website here: https://www.haydonschool.com/news/?pid=3&nid=1&storyid=54
Year 7 – Guiliana Schettino – A wide range of baking skills
Year 8 – Andreaa Cristescu – I would devour this plate in one sitting
Year 9 – Benedict Courtney – Pastalicious!
Year 10 – Donya Hajiahmad – Demonstrated a wide variety of culinary expertise
Year 12 – Charli O'Connor – mmmmmm....

Staff – Ms Williams – Tasty support for VE day
Message from Mr Knowles:
I have to say I was overwhelmed not only by the amount of entries but also by the variety and imagination behind them. I know it's often said but it really was impossible to choose a winner but Mr Gooch has forced my hand so even if your name is not below, you are all winners!
If you didn't win - please don't hate me for not selecting your entry – your prize was in the eating!
Mr Knowles
Week 5 Lip Sync Challenge - Mr Wake's Week 5: Challenge
Music and videos are all around us but how well can you recreate and improve them at home?
Join the Haydon Lip Sync challenge, here are some examples...https://www.youtube.com/watch?v=mceBoNddWUk
Extra credit will be given for family inclusion and fancy dress!
Weekly Cooking Challenge – Fruit Pancakes
Following the success of this week's cooking challenge, Mr Davis (Head of Food Technology) is going to be setting a weekly cooking challenge to keep your cooking and baking skills well honed.
Please see the picture and instructions below:
Ingredients
100g self-raising flour
25g wholemeal self-raising flour
1x15ml spoon caster sugar
180ml milk
1 egg (medium)
100g fruit, e.g. blueberries, raspberries, banana, sultanas Spray oil for frying
Method
Chop the fruit into small chunks or keep whole (depending on size of fruit).

Sieve the flours into the bowl and add the sugar.
Whisk the egg and milk into the flour.

Stir in the fruit.

Pour into the measuring jug.

Heat the frying pan and add a few sprays of oil.

Pour in 2 x 15ml spoons of mixture for each pancake.

Cook until bubbles appear on the surface and then turn using the fish slice.

Cook the underside of the pancake for one minute or until golden brown.

Serve with toppings of your choice
Please send pictures of your finished entries to Mr Davis on Satchel!