Duke of Edinburgh's Award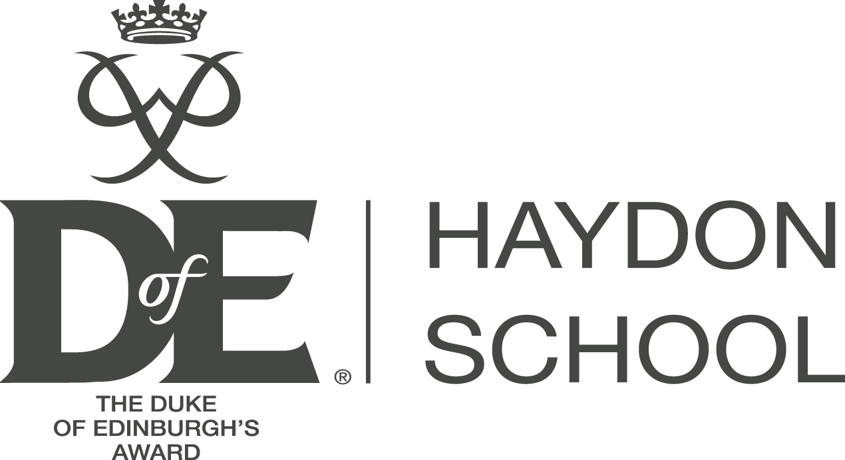 A Duke of Edinburgh's Award is so much more than a 'pat on the back' for completing a programme of activities. It is recognition of a young person's successful journey of self-discovery and development, renowned by employers and universities alike for the qualities young people achieve from undertaking a DofE Award.
There are three levels of programme which, upon successful completion, leads to a Bronze, Silver or Gold Duke of Edinburgh's Award being issued. The main differences between each level are the minimum length of time it takes to complete and the minimum age a participant can begin. Click here for further information.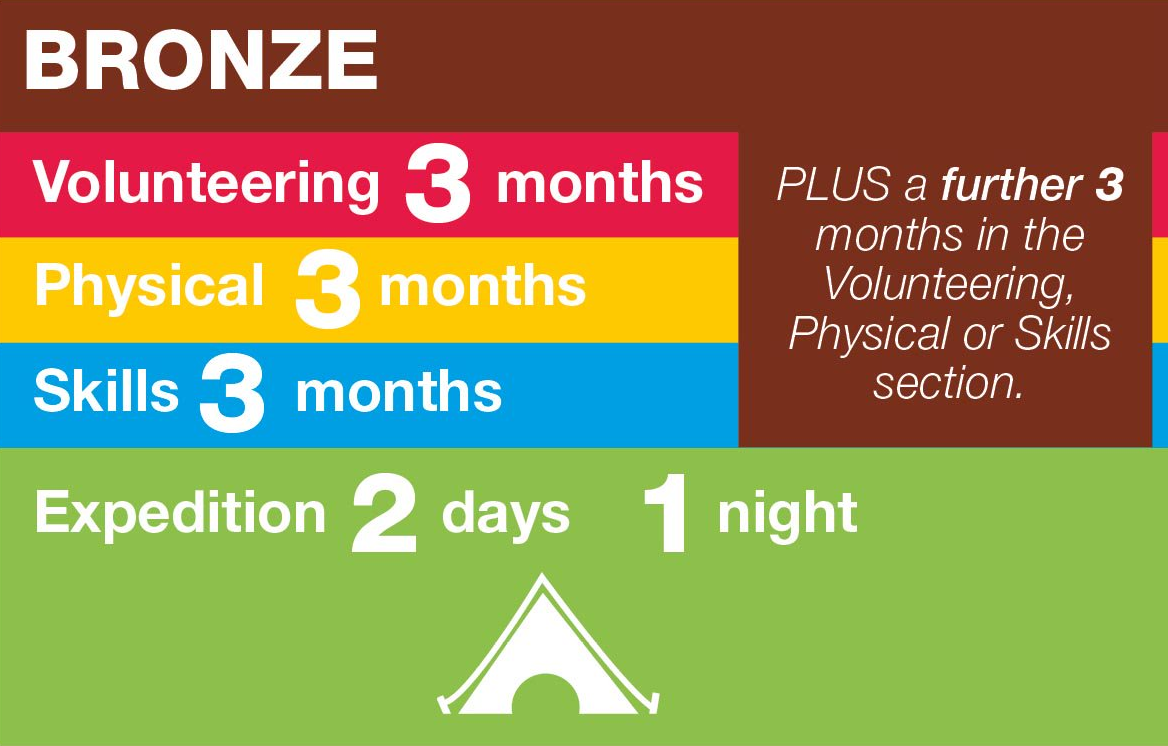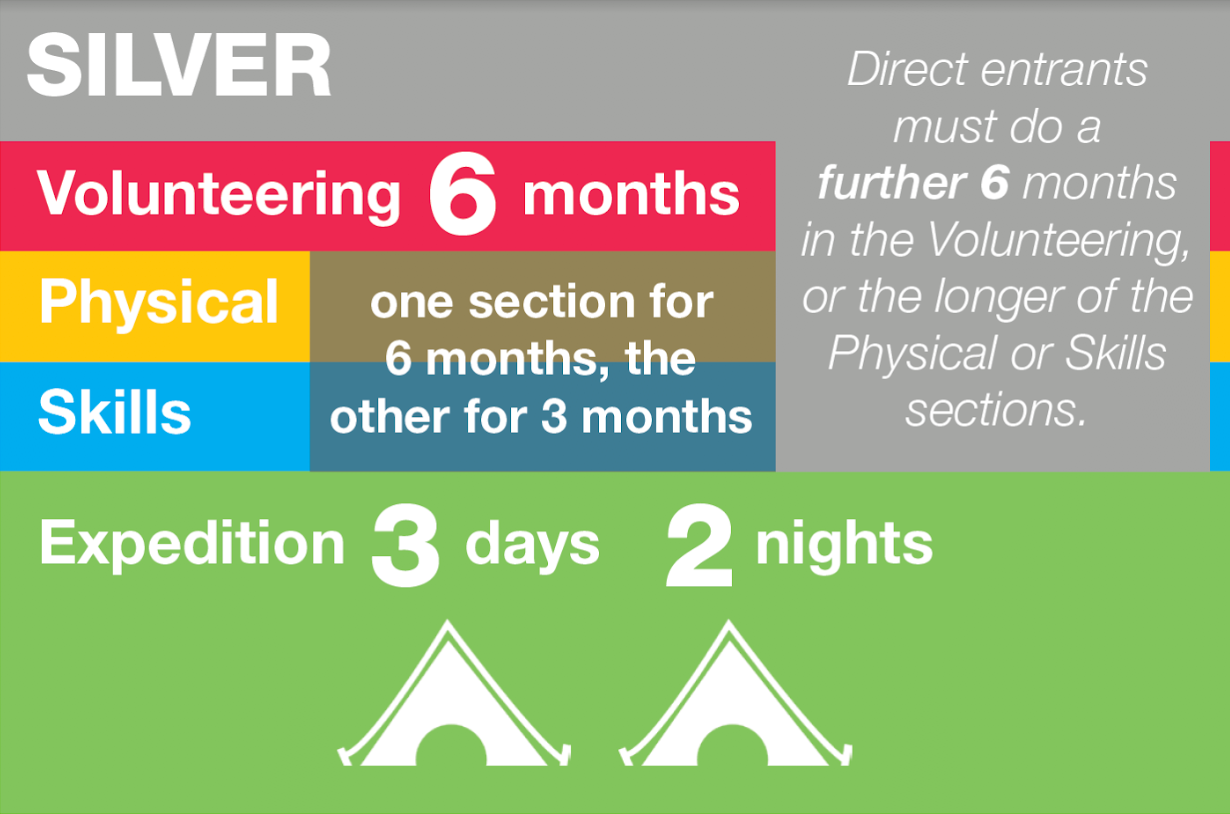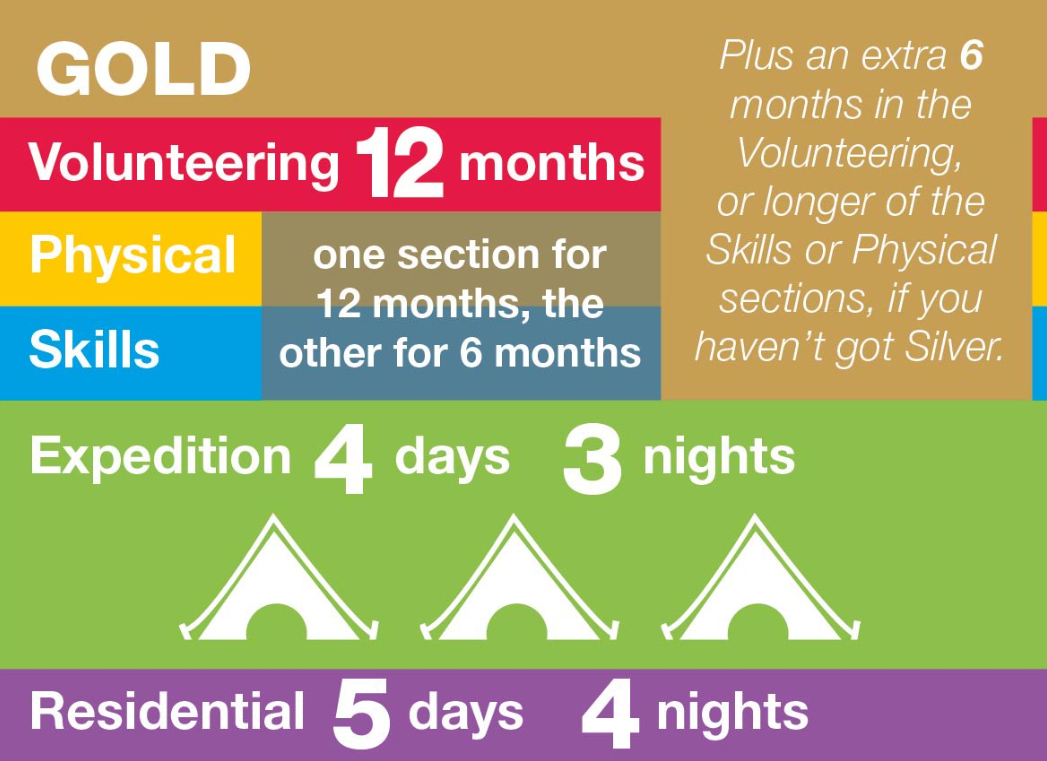 Volunteering Section
The Volunteering Section is simple. It's about choosing to give time to help people, the community or society, the environment or animals. Volunteering for a Duke of Edinburgh's Award must not be done for a business, but can be undertaken for a charity or not-for-profit organisation.
Please see a list of Volunteering ideas at the bottom of the webpage.
Physical Section
For your Physical Section you need to choose any sport, dance or fitness activity – in short, anything that requires a sustained level of energy and physical activity. A local sports team or a P.E extracurricular activity after school are just a few examples.
Please see a list of Physical ideas at the bottom of the webpage.
Skills Section
For your Skills Section you need to choose an activity that will allow you to broaden your understanding and increase your expertise in your chosen skill. This may entail learning to play a musical instrument or how to cook a number of traditional meals from scratch.
Please see a list of Skills ideas at the bottom of the webpage.
Residential Section (Gold Award)
At Gold Level participants are required to undertake an additional Residential Section. This involves spending five days and four nights taking part in a shared, worthwhile activity with people you've never met before. Examples include the National Citizen Service (NCS) or supporting a Scout residential camp.
Click here for a guide on choosing a Residential activity.
Click here for specific guidance on completing an Assessors Report for the Residential Section.
Please see a list of Residential ideas at the bottom of the webpage.
Expedition Section
The Expedition section entails participants planning, training for and completing an unaccompanied, self-reliant expedition with an agreed aim.
Participants undertake at least one practice expedition before a qualifying assessment expedition.
How long does my expedition need to be?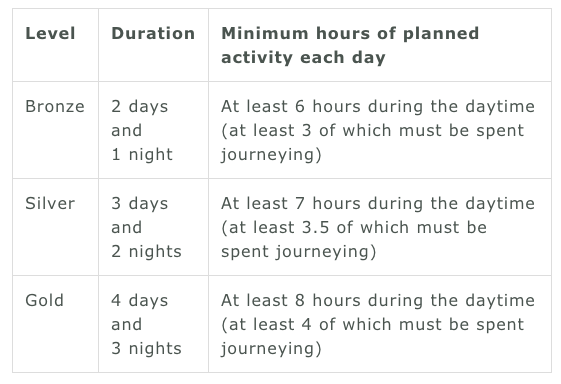 A participant must meet the 20 Conditions of the Expedition Section in order to pass successfully.
Condition 14 requires a participant to have the necessary physical fitness, first aid and expedition skills required to complete their expedition safely. First aid and expedition skills are undertaken as part of the Expedition Training at school.
Refresh your first aid and navigation skills. Don't forget to revise your OS Map symbols also!
Condition 17 requires a participant to understand and adhere to the Countryside Code.
The Expedition Section is managed by Haydon School in partnership with BXM Expeditions - an Approved Activity Provider (AAP) for the Duke of Edinburgh's Award.
Expedition Dates 2023/24
Bronze
Training Day - Saturday 9th March 2024

Practice - Saturday 23rd - Sunday 24th March 2024

Assessment - Saturday 20th - Sunday 21st April 2024
Silver
Practice - Saturday 4th - Monday 6th May 2024 (Bank Holiday Weekend)

Assessment - Saturday 25th - Monday 27th May 2024 (Bank Holiday Weekend)
Gold
Practice - Monday 8th - Friday 12th July 2024

Assessment - Saturday 20th - Wednesday 24th July 2024 (Last week of the academic year - school finishes on Wednesday 24th July 2024)
eDofE Support
A participant can access eDofE online here. For support in using eDofE, including uploading Activity details and photo evidence, please see the eDofE User Guide for Participants or the videos below.
Download the DofE app to start, manage and complete your programme. This is a convenient way to update eDofE as well as upload evidence and Assessors Reports!
If you have forgotten your eDofE username or password (or both) contact Mr Harding or Miss Maisuria at dofe@haydonschool.org.uk or pop into classroom D003.
Assessor Reports
Upon completion of the Volunteering, Physical, Skills or Residential section an Assessors Report is required to be completed and uploaded onto eDofE.
For guidance on how to complete an Assessors Report see the Assessors Report Guide.
If completing an Assessors Report online please ensure your ID number is issued to your Assessor. Your ID number is located on the top left of your eDofE homepage once logged in.
Download a summary of what to include in your report, and some example reports here.
For further information, including how to enrol onto your Duke of Edinburgh's Award, please contact:
Miss Maisuria - Duke of Edinburgh's Award Co-Manager